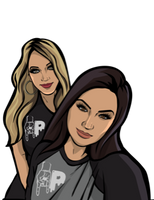 About Us
Danielle & Keauna are friends of over 10 years. When they realized they couldn't find a mom brand that was comfy but with a little edge, they started to make their own. With one mom working from Los Angeles and the other from Las Vegas they are able to pull inspiration from two of the biggest cities on the west coast.
RETURN POLICY
In order to protect ourselves and our customers from any additional risk, we will not be excepting returns or exchanges until further notice. Orders may be canceled prior to fulfillment by email only. Please contact us or refer to size charts if you are not sure on your size. For immediate help please reach out to us on instagram @motherpunkerboutique.
If you do receive an item that is damaged, we do offer a refund or a replacement item. Please contact us with details and your order number via email at motherpunker13@gmail.com.
Thank you for your understanding.